On paper, the 2009 NFL Draft looks weak. One can never tell for sure until about 3 years after the fact. Regardless, the fact that this is viewed as a weak class will separate the great GMs from the good ones, and the great Draft Gurus from the rest. Compared to the last three NFL Drafts, this year's draft is maddening to Draft Gurus (or at the very least to me), as I can make a case for anywhere from 50-60 prospects to go in the first round. In most years, the number is closer to 40-45. As usual, I take the "Draft for Need" perspective as much as I can, however as we all know, there are teams with different draft mentalities out there (e.g. - "Draft Towards Strength" or "Best Player Available"). Anyway...let's get this show on the road. As always, comments are appreciated.
First Round1. Detroit: Matt Stafford, QB - Georgia
I may stand with the minority on this, especially after Jason Smith beasted at the combines, but I still have Stafford going to Detroit. You just don't pass up on an arm like that. Good QB coaching can fix Stafford's weaknesses.
Jason Smith (photo courtesy of nflgridirongab.com)

2. St. Louis: Jason Smith, OT - Baylor
After putting together a combine performance like Jason Smith did, he could easily be the #1 pick in this draft. He showed his typical agility, but also showed the strength that quieted a lot of critics. With some fine tuning, he has Jonathan Ogden potential.
3. Kansas City: Aaron Curry, LB - Wake Forest
Curry proved that he is the elite defensive player in this draft. With Derrick Johnson moving inside, the Chiefs could use a play maker at OLB, specifically on the weak side.
4. Seattle: Mark Sanchez, QB - USC

My first reach. But, seriously, Matt Hasselbeck is up there in years, and the Hawks need to think about the future.
5. Cleveland: Brian Orakpo, DE - Texas
Maclin could get a look here with the trade rumors surrounding Braylon Edwards. If Edwards stays put, look for the Browns to address their OLB position with Orakpo.
6. Cincinnati: Eugene Monroe, OT - Virginia
The Bengals finally get a steal. Monroe could arguably be the top pick in the draft. Levi Jones should move to the right side. Another option would be to ease Monroe into the NFL at his former position at guard, before having him replace Jones.
7. Oakland: Michael Crabtree, WR - Texas Tech
Crabtree or Maclin. The Raiders already have some speed in their receiving corps. Crabtree can be a more reliable target for JaMarcus Russell (or Garcia), as he possesses more of that "throw the ball in his vicinity, and he'll catch it" ability.
Jeremy Maclin (Photo Courtesy of nfldraftdog.com)
8. Jacksonville: Jeremy Maclin, WR - Missouri
The Jags are turning into the Lions with their WR draft picks. Maclin is their latest attempt to break the tradition of busts at the position. If Mark Sanchez is available, expect the Jags to consider going that direction.
9. Green Bay: B.J. Raji, DT - Boston College
Raji has had some difficult times with word of him testing positive for marijuana. His agent has adamantly denied, and teams have seen how a player in a similar situation (Warren Sapp) has done. Raji steps right in at nose tackle for the new 3-4 scheme in Green Bay.
10. San Francisco: Everette Brown, OLB - Florida State
Andre Smith will get a long look here, but the fact remains that this team doesn't get enough pressure on the QB. Brown should have no problem starting opposite Lawson, and should benefit Lawson as well.
11. Buffalo: Brandon Pettigrew, TE - Oklahoma State
I hate to put a TE this high, but Pettigrew fills needs for this team. Not only can he catch the ball well, he is a monster blocker at the position. A DE like Everette Brown could easily go at this pick.
12. Denver: Tyson Jackson, DE - Louisiana State

Now that Denver added the 18th pick, they can play around a little more with this pick. Jackson is a stud, and Denver knew he wouldn't fall to their second 1st rounder.
13. Washington: Andre Smith, OT - Alabama
Smith's antics at the combines and his "shaky" pro day performance dropped him out of the top 10 picks. Smith should battle Jon Jansen on the right side, but will be groomed to eventually take over for Chris Samuels.
14. New Orleans: Malcolm Jenkins, CB - Ohio State
Don't be surprised if Jenkins moves over to free safety for the Saints. He could get valuable instruction from Darren Sharper.
15. Houston: Brian Cushing, OLB - Southern Cal
Demeco Ryans lacks a true play maker by his side. With Cushing, the two can feed off each other's football prowess, and elevate the Texans defense to the next level.
16. San Diego: Michael Oher, OT - Mississippi
Ever since Shane Olivea lost favor with the team due to his substance abuse, the Chargers have needed help at RT. Oher can easily step in and upgrade the offensive line.
17. New York Jets: Josh Freeman, QB - Kansas State
I have to stick to my guns here. As much as Madden Football 09 fans like to use Brett Ratliff instead of Brett Favre, in reality, they need Freeman's strong arm. Freeman improved his stock as much as any QB with his individual workouts. He reminds me (somewhat) of Jay Cutler and Joe Flacco.
18. Denver (from Chicago): Vontae Davis, CB - Illinois
This would be Beanie Wells, but after he snubbed the team on a scheduled visit, he won't be considered. Knowshon Moreno could end up here. The Broncos filled a lot of open spots with mid-to-low level free agents. However, they left the CB spot barren and Davis would be a nice addition. He can also learn a lot from Champ Bailey.
19. Tampa Bay: Aaron Maybin, DE - Penn State
Don't rule out Ziggy Hood or Peria Jerry in this spot, however, they couldn't pass on an upgrade to their pass rush. Greg White is short on experience and he will turn 30 this season. Time for the Bucs to get another young body in there to work with Gaines Adams.
20. Detroit (from Dallas): Rey Maualuga, LB - Southern Cal
This would be an ideal draft for Detroit. They get their QB, and now they land a leader on defense. Maualuga could take the reigns of the defense right away and allow the team to feed off of him. The run defense is desperate for a MLB like Maualuga.
21. Philadelphia: Chris "Beanie" Wells, RB - Ohio State
With Correll Buckhalter's departure, the Eagles need a between the tackles runner, who has the ability to break it outside when needed. A Westbrook/Wells tandem give the Eagles a potent running game that can open things up for McNabb.
22. Minnesota: Eben Britton, OT - Arizona
A WR would be nice, but the Vikings don't like the gambles that are available. With Artis Hicks penciled in as the starting RT, the Vikings choose to go with the top RT in the draft. Britton will add a strong run blocking presence on the right side, opening holes for Adrian Peterson.
23. New England: Clay Matthews, OLB - Southern Cal
While Cushing would be an early birthday gift, he won't fall this far. The Pats go with his college teammate. Matthews fits the mold of a "Belichick Guy".

24. Atlanta: Peria Jerry, DT - Mississippi
The Falcons could use another DT inside. Jerry could line up alongside Babineaux with Trey Lewis rotating in. Ziggy Hood could also be the pick here as he and Jerry are neck and neck in my opinion.
25. Miami: Darius Butler, CB - Connecticut
Tough choice between Alphonso Smith and Darius Butler. Smith can help right away while Butler might need a little time to acclimate. However, Butler's potential long term payoff outweighs the immediate need for help.
26. Baltimore: Alphonso Smith, CB - Wake Forest
With both McAlister and Rolle re-signed but deteriorating, the Ravens need fresh bodies at CB. Smith is the most game ready CB in this draft available after Malcolm Jenkins. He could push Foxworth for the starting spot early in the season.
27. Indianapolis: Ziggy Hood, DT - Missouri
Hood dominated at Senior Bowl practices. He was unblockable. Look for him to make an impact wherever he lands. For the Colts, he would be a Day 1 starter.
28. Philadelphia (from Carolina): William Beatty, OT - Connecticut
While Eben Britton is the next highest ranked OT, he can only play the right side, where the Eagles signed Stacy Andrews to play. Beatty is no consolation. He excels in pass blocking and is athletic enough to keep up with a QB like Donovan McNabb.
29. New York Giants: Darrius Heyward-Bey, WR - Maryland

The Plaxico situation forced this pick. Outside of Crabtree and Maclin, there might not be another WR going in the first round. However, the Giants are desperate for a WR. DHB holds a lot of potential, but needs some coaching. If he had better game experience, he would rank near Crabtree and Maclin.
30. Tennessee: Connor Barwin, DE - Cincinnati
I probably ranked Barwin a little too low in my
position rankings
. His hype machine is in full effect, and teams are now viewing him as a 1st round prospect. New England might consider him at 23. Barwin can also play on the offensive side of the ball as a TE where he can block and catch.

31. Arizona: Knowshon Moreno, RB - Georgia
Tim Hightower didn't take advantage of his time as a starter, and the front office is no longer confident in him as the every day starter. Look for Moreno (or Donald Brown if Moreno is gone) to be the pick here.
32. Pittsburgh: Alex Mack, C - California
The Steelers need a lot of help along the offensive line, especially in the middle. Depending on where they want Mack to line up, he could start out at OG, and eventually be moved to C.
Second Round33. Detroit: Duke Robinson, OG - Oklahoma
Don't rule out a DT (especially if Jerry or Hood fall to this pick). Robinson is no consolation prize though. He should step right into the LG spot and make the Detroit RBs happy.
34. New England (from Kansas City): Max Unger, C - Oregon
The Patriots can go a number of directions here with Unger. He can play all five offensive line positions effectively. He could be groomed to eventually fill in for Stephen Neal. However, the Patriots might not be happy with Kaczur's substance abuse allegations. Moving Unger to the RT spot could be an option.
35. St. Louis: James Laurinaitis, MLB, Ohio State
Expect strong consideration of Derrick Williams at this pick. However Laurinaitis is too good to pass up, especially going into the season with Chris Draft and Will Witherspoon fighting for the inside job. Both can move outside with the addition of Laurinaitis.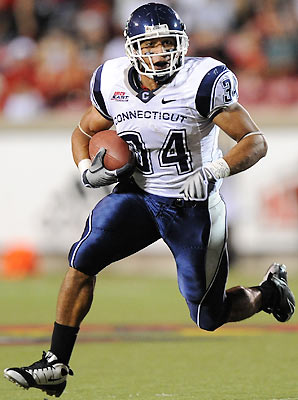 Donald Brown (Photo courtesy of broncotalk.net)
36. Cleveland: Donald Brown, RB - Connecticut
Don't expect Brown to be available at this pick, however if he's there, he would be a great fit in Cleveland. We could easily look back 3-4 years from now and say that Brown was the best RB taken in this draft.
37. Seattle: Rashad Jennings, RB - Liberty
Jennings is a big back with speed who has all the tools to be a starting back in the NFL. He played against a low level of competition at Liberty. He lands on the right team with Seattle, as they can bring him along at whatever pace they want.
38. Cincinnati: Percy Harvin, WR - Florida

While I thought I was being funny with this pairing, it actually makes a lot of sense. Harvin can line up in the slot, and he's got some off field issues. Perfect fit in Cincinnati. He would take command of return duties with his Hester-like athletic ability.
39. Jacksonville: Jamon Meridith, OT - South Carolina
Meridith makes a good fit here because he can play any OG or OT position. He could be groomed to move to LT one Tra Thomas is ready to retire.
40. Oakland: Michael Johnson, DE - Georgia Tech
While I would like to take the safe pick with Robert Ayers, we're talking about the Raiders. Johnson has a lot of hype coming out of college. Johnson is the pick with hopes of having a tandem reminiscent of Long and Townsend.
41. Green Bay: Phil Loadholt, OT - Oklahoma
With Tauscher out of the picture, the Packers turn their attention to Loadholt. A mountain of a man, Loadholt can step into the RT spot and use his powerful drive blocking to open holes for Ryan Grant.
42. Buffalo: Robert Ayers, DE - Tennessee
Ayers can challenge Chris Kelsay and Ryan Denney for the RE spot. Ayers brings a better pass rush, and could open things up for Schobel on the other side.

43. San Francisco: Kenny Britt, WR - Rutgers
Don't be surprised if an available RB like LeSean McCoy goes to the 9ers at this pick. Britt is a big receiver who brings more star power to the table than any WR they have. If Britt's play matches his attitude, he could be another T.O. in San Fran.
44. Miami (from Washington): Clint Sintim, OLB - Virginia
Sintim comes from a similar 3-4 system at Virginia as the Dolphins have. On the field, he is similar to Porter, and can learn a lot from him. An OG could get some consideration here.
45. New York Giants (from New Orleans): Cody Brown, OLB - Connecticut
All the sudden UConn is an NFL breeding ground. Brown is a speedy athletic LB who boasts a lot of potential. He projects to the outside, but has the thick stalky frame to play the inside. He could start off as a jack of all trades backing up all three LB spots before settling into a starting role.
46. Houston: D.J. Moore, CB - Vanderbilt
I almost had the Texans taking Vontae Smith in the first round, but felt Cushing was too good to pass up. Moore could eventually push Jacques Reeves for the starting spot in a year.
47. New England (from San Diego): Jared Cook, TE - South Carolina
A nice little steal. Cook could end up being everything Ben Watson was supposed to be for the Pats. Cook is a pure receiving threat. He can stretch the field and cause matchup problems for opposing defenses.
48. Denver: Larry English, DE - Northern Illinois
With the switch over to a 3-4 defense, the Broncos need bodies at the OLB spot. English brings his pass rushing prowess to the table. He has a lot of hype to live up to.
49. Chicago: Hakeem Nicks, WR - North Carolina

Nicks drops a long way due to questions over his conditioning and desire. However, if Lovie can light a fire in Nicks, Jay Cutler has a nice target to pitch the ball to.
50. Cleveland (from Tampa Bay): Sean Smith, CB - Wisconsin
Smith has been shooting up the charts. He's a huge CB, but can also be moved over to S. The Browns have needs at both positions, so they can use the versatility.
51. Dallas: Keenan Lewis, CB - Oregon State
The team is in desperate need of a CB after losing Anthony Henry, and dumping Pacman Jones. Lewis is a physical corner who can bring a lot of what Anthony Henry brought to the table, but Lewis has fresher legs.
52. New York Jets: Fili Maola, DT - Southern Cal
Maola will move over to DE in Rex Ryan's 3-4 defense. He would probably sit behind Ellis and Coleman, eventually taking over at one of the spots.
53. Philadelphia: Cornelius Ingram, TE - Florida
If it wasn't for missing the 2008 season with an ACL tear, Ingram would have rivaled Pettigrew as the top TE in this draft. Ingram is an Antonio Gates clone, bringing a lot of the same tools to the table. He has a lot of potential, and will make a lot of teams kick themselves for passing on him if he's 100% healthy and shows no signs of ill-effects.
54. Minnesota: Brian Robiskie, WR - Ohio State
Robiskie is a big, disciplined receiver who will make the tough catches that Sidney Rice cannot. He would make a nice compliment to Berrian, and could open the door for Bobby Wade to do his damage in the slot. You can't dismiss his bloodlines as his father, Terry, was one of the toughest WRs to ever play the game.
55. Atanta: Louis Delmas, S - Western Michigan
Regarded by many as the top safety in this draft. Patrick Chung is another option. Delmas could play either safety position. He can play in coverage and can play along the line of scrimmage if needed.
56. Miami: Louis Murphy, WR - Florida
Parcels doesn't usually do projects with dicey pasts. However, Murphy matured late in his college career, and seems to have turned things around. A prototypical WR who has excellent size and speed, but needs a little coaching and a Parcels-type presence.
57. Baltimore: Ron Brace, DT - Boston College
Raji's partner in crime at Boston College. Both are now in the NFL looking at playing NT in 3-4 defenses. Brace is a hard one to move and takes up a lot of space. He could push Kelly Gregg earlier than most think.
58. New England: Sen'Derrick Marks, DT - Auburn
Someone needs to give Vince Wilfork a breather. Marks is a squatty DT who can handle the NT spot in New England's defense. He should get a lot of playing time. He might even be versatile enough to play the ends too.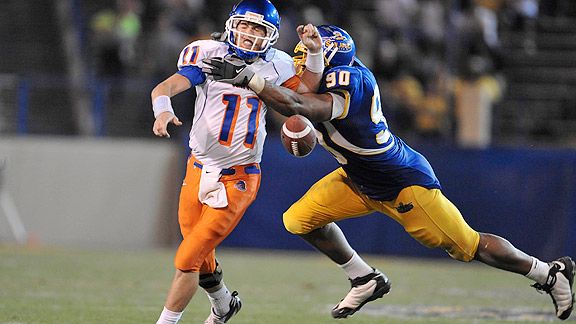 Jarron Gilbert (Photo courtesy of espn.com)
59. Carolina: Jarron Gilbert, DT - San Jose State
Gilbert is a tall DT who can get to the QB. He should come in for Kemeatu on passing downs, but don't be surprised if he beats out Tyler Brayton for the DE spot opposite Peppers.
60. New York Giants: Gerald Cadogan, OT - Penn State
Cadogan is slightly raw, but has the tools to start at LT in the NFL. Academic All-American who has the intelligence it takes to play the LT spot. Will eventually move Diehl inside..

61. Indianapolis: Alex Magee, DT - Purdue
Colts go DT again. They need the bodies. Magee played out of position at DE, but impressed at the Senior Bowl when shifted inside to DT. He has a lot of potential, but it's hard to tell what the finished product will look like.

62. Tennessee: Coye Francies, CB - San Jose State
Francies has a lot of upside, and has the time to learn with the Titans. Francies is a diamond in the rough, and if he can add about 10 lbs, along with some football IQ, he could be something special.
63. Arizona: Eric Wood, C - Louisville
Wood probably goes higher if he wasn't a center. Wood could end up beating out Sendlein for the starting spot. If Ron Brace were to somehow drop to this pick. He might be a good fit.
64. Pittsburgh: Jairus Byrd, CB - Oregon
The Steelers can play Byrd at either CB or S. Look for an offensive tackle to get a look too. Gerald Cadogen would be an option.