Note

: Tweet tweet. Clement will be live-blogging all night on Thursday night, starting right before 7pm. Tweet tweet.
We are less than a week away from the 2009 NBA Draft and trade rumors are buzzing. According to Aran Smith of NBADraft.net, teams with multiple teams such as Sacramento, Oklahoma City and Chicago are looking to sell their late first-round picks, while San Antonio, Detroit and Houston may be looking to join the fray. In our final mock draft, I will incorporate trade predictions. In my opinion, Sacramento, Minnesota, Memphis and Portland (shocker!) hold the keys to the draft. Portland, who hold 3 picks among the first 38, are reported to be making a serious play for free agent-to-be Hedo Turkoglu.
It is also around this time every year that teams start to make promises and that they go public. Today, as I was about to publish, I learned that BJ Mullens was reportedly given a promise by the Detroit Pistons if he is available at the 15th pick. As we get closer to Thursday, more promises will be rumored and others will be confirmed.
The overarching theme is the general dearth of frontcourt talent versus the deep point guard class. In this edition of the PHSports mock draft, I have 17 point guards selected, including nine in the first round and a whopping six in the lottery. Had this mock draft not reflected need-based selections, then more than a third of the selections in this draft would have been point guards (Daniel Hackett, Cedric Jackson, Nando De Colo, and Jeremy Pargo, to name a few).
*****
1.
LA Clippers - Blake G
riffin, PF, Oklahoma.
Griffin is their man. Expect the Clippers to shop at least one of their veteran bigs on the cheap to make space for the franchise forward.
2.
Memphis - Hasheem Thabeet, C, UConn.
Thabeet needs few shots to make an impact and his defensive prowess is documented. That said, I have more doubts than most about Thabeet's durability and aptitude for playing without the benefit of the zone defense.
3.
Oklahoma City - James Harden, SG, Arizona State.
Truly a combo guard, Harden is arguably the second-most skilled player in the draft after Rubio.
4.
Sacramento - Ricky Rubio, PG, DKV Joventut.
It's no secret that the Beno Udrih project didn't work, and that the Kings have a major gap at the point guard position. If Rubio is off the board, the Kings will consider Tyreke Evans.
5.
Washington – Stephen Curry, PG/ SG, Davidson.
If Washington does not trade out of this pick (they should), Curry gets the nod because of his versatility and his ability to play in multiple lineups. So much for that promise from the Knicks.
6.
Minnesota – Tyreke Evans, SG/PG, Memphis.
Evans may not have timed well during workouts, but he's the explosive guard that the Timberwolves are missing from their arsenal.
7.
Golden State - Jordan Hill, PF, Arizona.
One of the highest risers in this year's class, Hill is still getting better in all facets of the game (physical, mental, skill). If Monta Ellis does not end up running the point, the Warriors may select either Jonny Flynn or Brandon Jennings.
8.
New York - Jonny Flynn, PG, Syracuse.
Speedy, strong and smart – Flynn is the type of leader who Mike D'Antoni needs. It is rumored that the Knicks will decide between Curry, Evans and Jrue Holiday, but I think they take Flynn over Holiday.
9.
Toronto - DeMar DeRozan, SG/SF, USC.
No one questions DeRozan's athleticism and skill. If he can become consistent and let his defensive efforts feed his offensive game, he could be the aggressive swingman who can get to the line consistently. If DeRozan shows resistnace to playing north of the border, the Raptors could select Gerald Henderson or Wayne Ellington.
10.
Milwaukee – Jrue Holiday, PG/SG, UCLA.
Resigned to losing Ramon Sessions, it seems more and more like the Bucks are selecting a point guard. I really see the Bucks trading down a few picks and taking Jeff Teague. If they hang onto the pick, Holiday is the type of defender who can grow into the point guard role that Scott Skiles likes.
11.
New Jersey – DeJuan Blair, PF, Pittsburgh.
For a team that still has weaknesses in the frontcourt, a lot of mocks have them selecting guards. Common sense points to the Nets drafting a bruiser who can go after a lot of loose balls and play alongside Brook Lopez.
12.
Charlotte – Wayne Ellington, SG, North Carolina.
If Charlotte wants to fill the hole left by the trade of JRich, they will select Wayne Ellington instead of Gerald Henderson. Why? Ellington is a smooth shooter with a silky stroke and improved steadily at the defensive end. Not to mention, he can take it to the hoop if the need arises. Once again, the Bobcats will get plenty of calls from teams trying to move up.
13.
Indiana - Eric Maynor, PG, Virginia Commonwealth.
Needing a true floor general, the Pacers get just that. Maynor can do it all and has one of the nicest floaters from 8 to 14 feet out that you'll ever see. Again, other sites have DeJuan Blair going here. If he's available, that's who they will take.
14.
Phoenix – Brandon Jennings, PG, Lottomatica Roma.
Chances are Jennings's upside does not allow him to seep out of the top 10. The fact is, he can't shoot well from deep and he needs to get stronger. That said, Jennings is a great value for a team who can let him grow.
15.
Detroit - Earl Clark, SF, Louisville.
Clark's skill, length and tenacity makes him a good fit for the Motor City. His ability to run the floor well is an added bonus. In the last week, there have been two conflicting rumors. The first is a promise to BJ Mullens. The second is a trade out of this pick and the contract of Amir Johnson to free up money for two big free agent offers (seemingly to Ben Gordon and Carlos Boozer).
16.
Chicago – James Johnson, PF, Wake Forest.
Johnson fits well into the scheme and can make an instant impact on the blocks. If the Bulls see that there is no chance to re-sign Ben Gordon, then Gerald Henderson is the logical choice.
17.
Philadelphia – Gerald Henderson, SG, Duke.
Though he lacks a solid jump shot, Henderson is aggressive at both ends and has the potential to become a lockdown defender.
18.
Minnesota (from Miami) - Ty Lawson, PG, North Carolina
. The T-Wolves need a better option at point guard, who is cat quick and can shoot when asked to do so.
19.
Atlanta – BJ Mullens, C, Ohio State
. Trade rumors are swirling around this pick. My over / under for this pick being traded is 60% percent. If they hold onto the pick, the Hawks can go in many directions. If they re-sign Mike Bibby, they will go with a big and swing for the fences. At worst, BJ Mullens is a true 7-footer who can hit a jump shot and stand there.
20.
Utah - Chase Budinger, SG/SF, Arizona
. Budinger is a lights-out offensive player who has improved slightly as a defender, but not enough to warrant clear lottery status. Needless to say, he is great value at the 20th pick and will vie for playing time immediately.
21.
New Orleans – Jeff Teague, PG, Wake Forest
. Chances are, New Orleans will trade this pick. And if so, they will be making the pick for someone else. If that is the case, Teague is a great value.
22.
Dallas - Terrence Williams, SG/SF, Louisville
. Once again, the theme involves selecting players who can create impact without needing to score. Williams is one of the five best defenders in the draft and his point-forward skills make him an attractive option.
23.
Sacramento (from Houston) – Tyler Hansbrough, PF, North Carolina
. The Kings have needs in the muscle department as well as at point guard. Given that they satisfied the point guard, Hansbrough is the best available in the muscle department. Unfortunately, we won't get to see him celebrate much like this early on for the Kings.
24.
Portland – Sam Young, SF, Pittsburgh
. Agile and talented, Young made the most of his abilities while playing in the Big East. Young is also a high character guy which Nate McMillen has to like.
25.
Oklahoma City (from San Antonio) – Austin Daye, SF, Gonzaga
. Daye may have a promise in the teens, but he slips here. Daye is a very good shooter and has a good feel for the game. Questions about his ability to be physical has him slipping for me.
26.
Chicago (from Denver through Oklahoma City) – Marcus Thornton, SG, LSU
. Thornton is a multifaceted shooting guard who can break down defenses, connect from deep, and guard on the ball.
27.
Memphis (from Orlando) - Omri Casspi, SF, Maccabi Tel Aviv
. One of the most talented young players in Europe over the last two years, Casspi has an inside/outside game that's more of the finesse and flair style. If Casspi does not get a 1st-round promise, then he will withdraw from the draft as he did last year.
28.
Minnesota (from Boston) - Derrick Brown, SF, Xavier
. Another explosive forward, Brown doesn't mind mixing it up in the paint or stepping back for a trifecta.
29.
LA Lakers – Darren Collison, PG, UCLA
. Collison struggles mightily against taller guards and the NBA consists of those. That said, Collison can easily make a roster, because he's a hard worker, has great quickness, makes good decisions on and off the ball, and has a mid- and long-range jumper. Toney Douglas would also look really good in a Lakers uniform.
30.
Cleveland – Jonas Jerebko, SF/PF, Angelico Biella
. Jerebko dominated at the EuroCamp and caught the eye of NBA scouts. If the Cavs see that signing Jerebko or any other European-based player will be difficult, I see them taking Taj Gibson.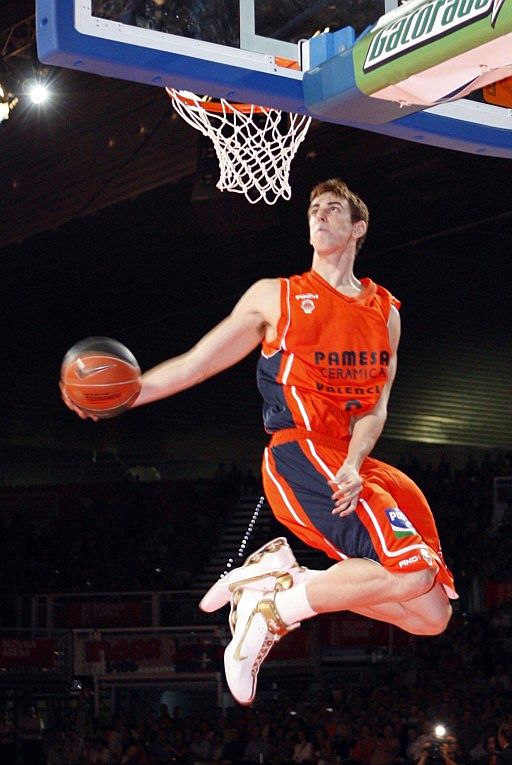 31.
Sacramento - Victor Claver, SF/PF, Pamesa Valencia
. Claver does not fit the Charmin stereotype that most Spanish players fall into for being soft. He's also a very polished player, but needs to improve his lateral quickness.
32.
Washington – Taj Gibson, PF, USC
. Gibson adds depth to the Wizards frontline. His mid-range jumper and wingspan - which results in blocked shots - adds value.
33.
Portland (from LA Clippers) - Nick Calathes, PG/SG, Panathinaikos
. Stash pick here. Calathes will be in Greece for up to three seasons, but he can become a Blazer after one. He can score, rebound and dish it, but does he have the will to win?
34.
Denver (from Oklahoma City) – Patrick Mills, PG, St. Mary's
. Mills hasn't impressed too much in workouts, but he was a sure-fire first-round pick before his injury. In turn, Denver gets the backup point guard which they sorely need.
35.
Detroit (from Minnesota) – Toney Douglas, PG/SG, Florida State
. While Douglas is not the true guard they long for, he is the best option out there. Additionally, he provides additional scoring punch in the backcourt.
36.
Memphis - DaJuan Summers, SF, Georgetown
. After making a horrible decision to leave school, Summers's athleticism makes him a very viable option early in round 2. One of the better values thus far.
37.
San Antonio (from Golden State) – Jeff Pendergraph, PF, Arizona State
. Serviceable big man who never quits and is crafty like an NBA vet. Coach Pop could fall in love with this type of player.
38.
Portland (from New York) – Jody Meeks, SG, Kentucky
. Chances are that Portland packages their five picks into two or possibly three, and that they make value picks. Enter Jody Meeks. If you watched any SEC basketball last year, you'll know that Meeks is a prolific scorer who's unselfish and is a very underrated on-the-ball defender.
39.
Detroit (from Toronto) – Rodrigue Beaubois, PG, Cholet
. Again, I do not see the Pistons making this pick for themselves. Making that assumption, teams have to love Beaubois's speed and wingspan, and some hold out hope that he can grow into a playmaking role.
40.
Charlotte (from New Jersey) - Jeff Adrien, PF, UConn
. For a team that wants to get physical immediately, Adrien is a great pick. If effective, it will be as a garbage man on the offensive end and as a physical defender.
41.
Milwaukee – Josh Heytvelt, PF/C, Gonzaga
. A rebounding forward with a deft shooting touch. Heytvelt will be able to make an impact if he keeps his head on straight and works hard.
42.
LA Lakers – Danny Green, SF, North Carolina
. A 94-foot player, Green spent last summer adding muscle to his frame to prepare for the rigors of the NBA. To be successful, Green must become more consistent at the offensive end and not let his slumps at one end affect effort at the other.
43.
Miami (from Indiana) – Leo Lyons, PF, Missouri
. Miami needs to get younger and fresher in the frontcourt and Lyons provides some much-needed energy and skill.
44.
Detroit – Jermaine Taylor, SG, Central Florida
. Taylor is one of the best pure shooters in the draft and an asset to anyone who may acquire this pick.
45.
Minnesota (from Philadelphia via Miami) – Sergey Gladyr, SG, MBC Mykolaiv
. A relative unknown in Europe, Gladyr excelled at the EuroCamp, demonstrating strong mechanics and good bounce. He's still young (19) and has plenty to learn.
46.
Cleveland (from Chicago) – Jon Brockman, PF, Washington
. Gritty forward who can flat-out rebound … and score.
47.
Minnesota (from Miami) – Dionte Christmas, SG, Temple
. This pick reeks of BPA – best player available – plus trade. Christmas may not be the best player, but no team can have enough shooters or scorers.
48.
Phoenix – DerMarre Carroll, SF/PF, Missouri
. A great fit for Alvin Gentry's up-tempo style, Carroll must limit the turnovers to contribute.
49.
Atlanta – AJ Price, PG, UConn
. A crafty point guard who's battle-tested and mature. If Atlanta goes the upside route, then Patrick Beverley or Curtis Jerrells may be the guy.
50.
Utah – Curtis Jerrells, PG, Baylor
. A cat-quick guard who can shoot, but must improve his decision making to be successful.
51.
San Antonio (from New Orleans via Toronto) - Dante Cunningham, SF, Villanova
. One of my favorite players, Cunningham is a coach's dream. He always works hard, never gives up on a loose ball, plays textbook defense, and plays within himself on offense.
52.
Indiana (from Dallas) - Vyacheslav Kravtsov, C, BC Kyiv
. Built like a brick wall, Kravtsov can turn into a defensive specialist.
53.
San Antonio (from Houston) - Jerel McNeal, SG, Marquette
. Though undersized at the 2, McNeal is athletic and skilled. My over / under on this pick being traded is 80 percent.
54.
Charlotte (from San Antonio) – Tyrese Rice, PG, Boston College
. Underrated (largely because of his height), Rice has a great first step that made him a regular guest in the opponent's paint.
55.
Portland (from Denver) – Patrick Beverley, PG, Dnipro
. Beverley has the athletic gifts and aggressiveness to be successful, but he has not yet developed his basketball IQ.
56.
Portland – Vitor Faverani, PF/C, Unicaja Malaga
. Faverani is still learning is 99% potential, and is a low-risk, high-reward pick.
57.
Phoenix (from Orlando) – Chinemelu Elonu, PF/C, Texas A&M
. Elonu probably made a poor decision to leave school early, but he can rebound, block shots and can play physical. The Suns can use all three of those qualities.
58.
Boston – Connor Atchley, PF, Texas
. Despite a poor senior year, Atchley is an unselfish role player who will do the little things that playoff teams need. To earn a roster spot, Atchley needs to be consistent.
59.
LA Lakers – Robert Dozier, PF, Memphis
. Tenacious defender whose wiry frame allows him to defend multiple positions.
60.
Miami (from Cleveland) – Emir Preldzic, SF, Fenerbahce Ulker
. A point forward with a high basketball IQ, Preldzic is a skilled player whose responsibility increased this year in the Euroleague.
Note

: Tweet tweet. Clement will be live-blogging all night on Thursday night, starting right before 7pm. Tweet tweet.